JAMES AND OLIVER PHELPS. (Harry potter series.)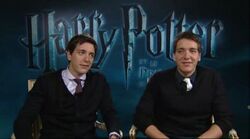 Both young men have always shown a great interest in acting and have been in many high school productions together. They are currently attending Arthur Terry School for the first year of 6th form, where they will stay until they graduate, this year. They don't know just yet what they're going to do with their lives, be it going into movies full time or going to university.
The twins enjoy golfing (handicap 20 for Oliver and handicap 18 for James), listening to rock music, playing the Xbox 360 and PlayStation, and acting.
AMAZING FACTS:-
James' favorite website is http://www.cowfighter.com/
Oliver's favorite website is http://www.nick.com/
James' wish for his future is to play an antagonist in a James Bond movie or play James Bond himself.
Both of the twins are 6'3"
They have a bearded collie named Ewen, who is big and hairy, plays a mean game of football, and loves snow.
When they were filming in London, they visited Madame Tussauds, the famous waxworks with their friendLuke Youngblood.
Their pranks include confusing the people at their school when they switch names.
Their hair is actually mid-brown; they dye it for the
HP movies
.
For James Phelps twitter click on this pic
For Oliver Phelps twitter click on this pic.
For more information on them, click on this pic